Competition Page
Network Distributing have kindly provided us with 2 copies of the TAKE ME HIGH DVD to give away to you.
This film is out on Blu-ray / DVD / VOD on Mon 18th March
One of these DVD's is going to be given away right here and the other will be available to club members in the May magazine!
All you have to do to enter is email me the answer to this simple question by March 31st, 2019:
Cliff plays Tim Matthews in Take me High, but what was Tim's original profession? Was it:
A. Banker
B: Financier
C. Dancer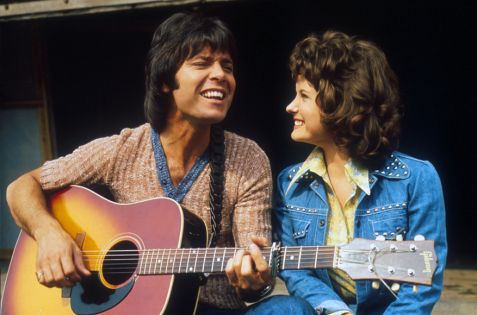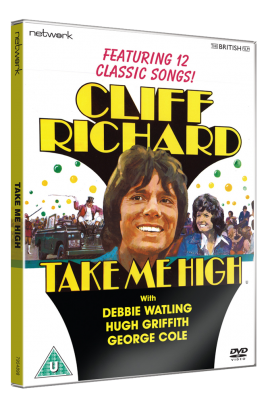 Out on Blu-ray / DVD / VOD on Monday, 18th March 2019
Sir Cliff Richard, in his last starring film role, plays Tim Matthews, an ambitious young financier who gets the shock of his life when he's assigned a new posting in Birmingham – a far cry from the New York job he was promised! Making the most of things he lives on the canal in a converted barge, but he manages to put his foot right in it when he meets the pretty Sarah and refuses her a loan!
Featuring twelve classic songs – including the Top-30 selling title track – and filmed extensively on location in Birmingham, Take Me High co-stars Debbie Watling (Doctor Who), Hugh Griffith (Ben-Hur), George Cole (Minder) and Anthony Andrews (Brideshead Revisited).
Unavailable on home video for many years it is featured here as a new High-Definition transfer from original film elements in its original theatrical ratio
Take Me High continues Network Distributing's roll out for The British Film: Phase II label - To see a list of upcoming titles and those already available please visit - www.thebritishfilm.co.uk
Release Date: 18th March (available to order from Leo's Den now)
Blu-ray/DVD/VOD RRP: £17.99 / £12.99
Cert: U
No. Discs: 1
Running Time: 90mins approx
Picture: 1.75:1 Colour
Special Features: Music-only audio options on main features/ Russell Harty interview / Theatrical Trailer / Textless Tiles / Image Gallery / PDF Materials
Tracks included in the feature film:
It's Only Money
Midnight Blue
Winning
Anti-Brotherhood
Why?
Life
The Game
Brumburger Duet
Take Me High
Join the Band
The Word is Love
Brumburger Finale
For further information visit:
More Information
Membership Prices